Porodo Smart Car Charger FM Transmitter
Receiving or answering calls while you are driving will not be dangerous since you are using a car charger FM transmitter you can answer with your free hands or command Siri or Google voice assistant this ability is enough all ready to enjoy your driving but it's not finished yet you can also fast charge your phone and listen to your favorite music with bass boost and enjoy more.
FM Transmitter for Compatible with iPhone/Samsung Galaxy/Android car kit. Built-in Microphone. Supports Hands-free function.
-Stay connected and powered up even when you are in your car with this fast car charger by Porodo FM Transmitter and Fast Charging Car Charger 24 W to charge your devices 75% faster than normal chargers.
Built-in protection against over-current, overcharging, short-circuit, and overheating.
It is compatible with iPhone, Samsung Galaxy, and any other Bluetooth-enabled smartphones.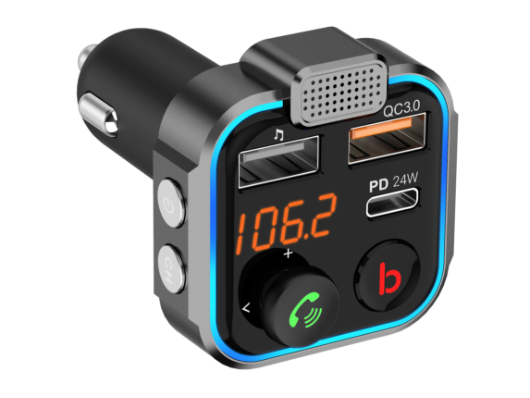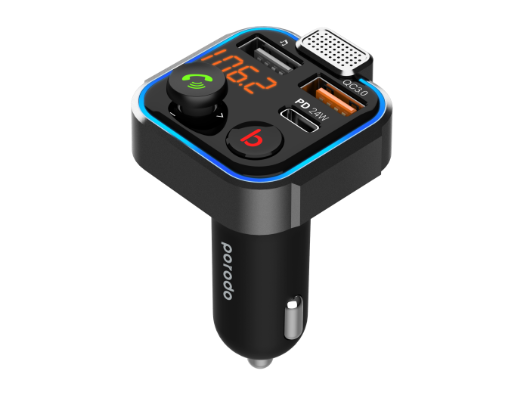 Porodo Smart Car Charger FM Transmitter
This device releases stream music and calls directly from your Bluetooth device to your car's FM stereo system. The built-in microphone provides you with an amazing hands-free function, it is also with a USB port that lets you enjoy favorite Mp3/WMA/WAV/FLAC in your car's stereo system. One button to activate the BASS sound. 5-way directional button provides you easy 8 handy operation feelings: blind operation to pick up phone call. Please read the user manual carefully before using it. Hope this device makes your driving more interesting and safe.