Porodo Wall Socket comes with 3-outlet sockets with 3 fast-charging USB ports, 2 USB-A, one USB-C. the outlet is designed for 3 plug sockets or UK plug mode. Suitable for Home, Office, School, Kitchen, etc.
Porodo Multi-Port Wall Socket
The Porodo Wall Socket extended the wall socket to 3 AC outlets and 3 USB ports which make it suitable for any kind of device in another hand you can charge all your devices with this wall socket because that's why it has been made. You can charge 6 devices together at the same time simultaneously. The maximum output for the USB port is 20W (5V3A) and the AC output is 3250W (250V/13A), it is ideal for charging in most of the office and any kind of household appliances. It is one of the backpack priorities before planning for going on a trip because of its design which is really compact and convenient for traveling, don't worry about charging your Smartphones, headphones, speakers, external batteries, tablets, etc., while you are far from home.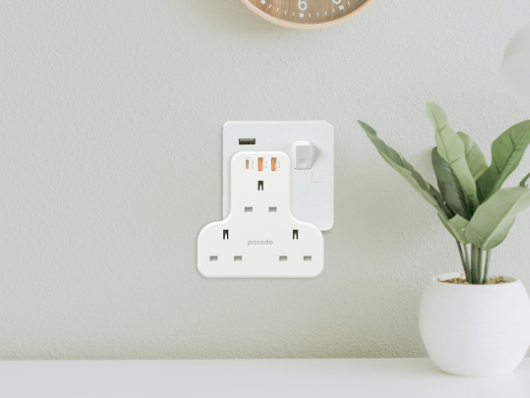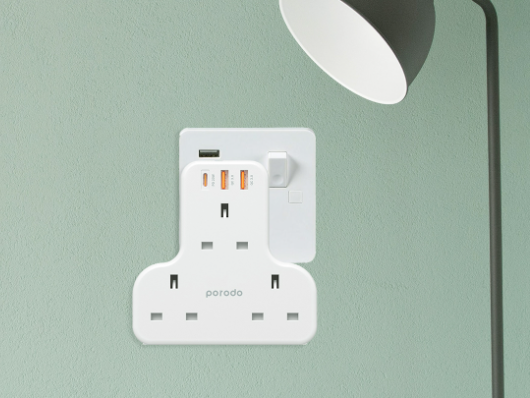 Porodo Multi-Port Wall Socket
You can use this wall socket in most countries such as Germany, France, Iceland, Netherlands, Norway, Poland, Portugal, Russia, Spain, Tunisia, Turkey, Austria, Croatia, Egypt, Finland, Greece, Hungary, Jordan, Mongolia, Morocco, Myanmar, Korea, Romania, Slovakia, Ukraine, etc. the material which has been used in the Porodo wall socket some specific materials have been used to make this product withstand through the facing with high temperatures and overheating. Be sure that this wall socket will protect the safety of your device in all the details. Remember that this device is perfect fit and also travel friendly, plug the adaptor between the wall outlet and your device, and don't worry because this product is more than secure and not going to fall easily. The material which has been used in this wall socket is fireproof which is another reason for its safety and security.