Suction Base Magnetic Car Mount
Relax your mind about your phone and have a car mount, for better and stylish use of the map and your phone while you completely focus on your driving, with six powerful magnets and holding weight to 3700G you will never need to be worried about your phone. Stay stylish and have a safe driving with x6 magnets car mount. This Product is designed to have a Re-Washable stick-on base and is compact with 240° rotating arm.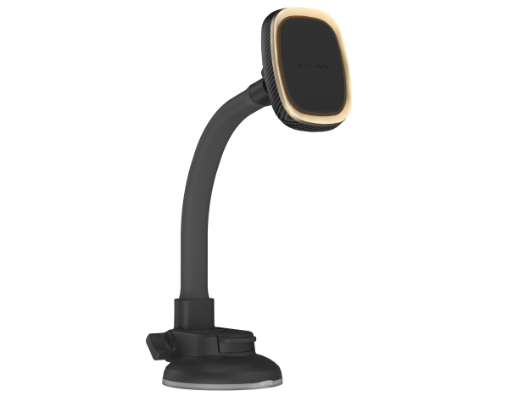 Suction Base Magnetic Car Mount
Porodo Magnetic Car Mount with the flexible neck is a Re-washable car mount that means you can wash it whenever you feel it needs to be washed. This product can be extended up to 18cm, this option can help you when you want to navigate a location from the map on your phone. You can play your favorite playlist while you are driving and put your phone on this wireless charging car mount at the same time. The flexible neck for this product can adjust you to a perfect angle. It has been designed with 6 powerful N52 magnets that help you to support your phone and protect it from any possible damage. The materials which have been used in this car mount are PC and ABS stainless steel, the shield is made of aluminum, and the bottom of the car mount is made of Sticky Gel that has the suction ability so you can place it on any flat surfaces into your car, and the place that attaches to your phone has been designed with a silicone base.