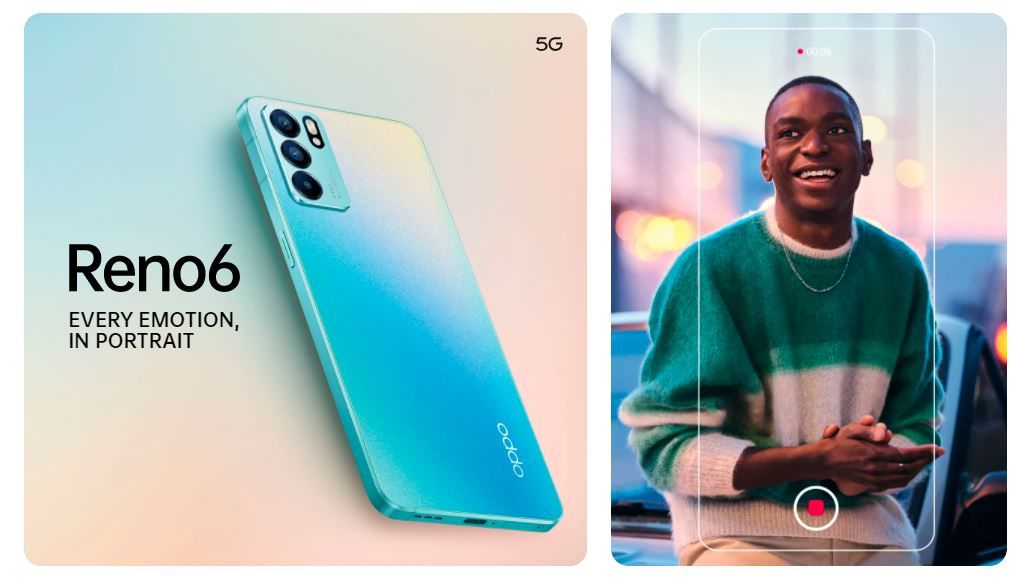 OPPO RENO6 5G
Video graphy
Make extraordinary memories out of the everyday
Powered by AI Algorithm running thousands of computations per second, our industry-leading Bokeh Flare Portrait Video turns background lights into dreamy circles that will make any moment feel special.
Incredible light, always
Against the midday sun or long after sunset, AI Highlight Video combines Live HDR and Ultra Night Video algorithms to automatically adjust the natural light. So now you can shoot all day and night.
Enhance your natural beauty
Portrait Beautification Video uses AI Algorithm to pin point 193 facial points to provide customizable beautification to suit just you.
Bye Bye, Blurry Videos
Focus Tracking keeps your videos clear by locking focus on the action to catch every slam-dunk.
Stand out in style
AI Color Portrait helps you stand out in style, by separating you from the background and changing it to black and white – all in a single click.
Photography
Colors as true as real-life
In real time, the Color Temperature Sensor records the white balance of a scene, speeding up the shutter and providing greater color accuracy.
The best moments happen in a flash
Flash Snapshot, powered by OPPO exclusive Image Clear Engine and Color Temperature Sensor, automatically focuses from the moment you open the camera. you'll never miss a funny face or an unbelievable scene.
Pixel Perfect Detail
Ultra-Clear 108MP Image is so full of detail, you can zoom in over and over again, and never lose any clarity.
New Pallete, New You
In a single click, AI Pallete recreates color tones and lighting from images and applies them to yours. time to take color inspiration from movies, art or even your favorite influencer's feed.
Design
Designed to Dazzle
Industry-leading OPPO Reno Glow wows with over 20 patents applied to create our unique, fingerprint-proof finish.
Flat-Egde design, made for holding
Our Ultra-Slim Retro Design is slim and light while the sleek, flat-edge middle frame design is so comfortable, you'll never want to put it down.
Performance
Wait for you friends, but never your phone
The 65W Superudu VOOC 2.0 safely charges your phone to 100% in only 28 minutes, because life doesn't stop while you charge.
Do More, Charge Less
Finally, a battery that can keep up. Our 4300mAH large battery, works with Super Power Saving Mode and Super Nighttime Standby to keep you going and going and going.
Looks Cool. Stays Cooler
With 9200 mm graphite heat dissipation and a 2363 mm vc heat dissipation area, the Multi-Cooling System helps keep your phone cooler, even as the game heats up.
The World, instant at your fingertips
New Media Tek Dimensity 900 ia an octa-core 5G processor which uses the latest 6nm production process to achieve more powerful performance with lower power consumption. This means  faster everything is just the beginning.
More memory to fill with your memories
If the massive 8GB + 128GB internal storage isn't quite enough, the system seamlessly kicks in to give you an additional 5GB of extra memory thanks to RAM Expansion. And it's so smooth, you won't even notice the switch.
Immersive Gaming
The game just got real
Level up your game with the true-to-life vibrations from the vivid and customizable  Z-axis Linear Motor.
Dolby Atmos
Stream and game like never before with immersive surround-sound from Dolby Atmos.
Screen
Adjust to you
The Reno6 5G is even easier on the eye with 360 degrees Light-Sensing. The front and back light sensors work to create our most accurate automatic screen brightness control yet.
Scroll on Forever
Satisfying smooth scrolling and viewing experience, with the super-fast 90Hz Refresh Rate and a touch sampling rate of up to 180Hz.
Color OS
O Relax
The sounds of the Cities helps you relax to the vibe of different city scapes. Or you can unwind with tools to help you breathe, focus and sleep.
Artist Wallpaper Project. Envisioning Chemistry
In Partnership with Global Art and Science Institution, Beauty of Science, we've developed a new range of surreal wallpapers that evoke awe by exploring microscopic chemical reactions.
Private System
Privacy at the touch of a fingerprint. Switch seamlessly between two private spaces with the tap of a different fingerprint.
Freedom Screenshot with instant translate
Swipe down with three fingers to freely select and shape from your screen. With a single tap, the selected area will be translated into more than 100 languages using google lens.